An outreach evangelism done by transformational ministries to fight against drugs from 15th to 18th June 2017 at Kinkware center / Nkotsi sector in Musanze district.

Many people attended youths crusade. The prayer at opening session. The theme Job 28:28. The Lord blessed mightily

Transformational Ministries lead by Bishop John RUCYAHANA has organized a youth crusade which spend 4 days. The theme found in the book of Job 28:28 it says: And he said to man, "The fear of the Lord- that is wisdom, and to shun evil is understanding.


The main purpose of the crusade was to alert youths how bad it is to use drugs abuse and the importance of stopping them.


The preachers we had were: Bishop John RUCYAHANA, Bishop Deo Gashagaza, Rev Laurien and Pastor Matabaro Jonas, all of them used the word of God to proclaim the Good News of Salvation. The cosmic mission for our redemption. The word of God was share, many people believed Jesus Christ as
the Saviour, many people repented and asked for forgiveness from their families and God.

In our plan, we are organizing more crusades in different sectors of Musanze District to tell the youth the effects of using drug in our society. Sin and drug abuse affect the society generally. This man hugging Bishop John had strayed from his family for many years because of drunkenness and other abuses.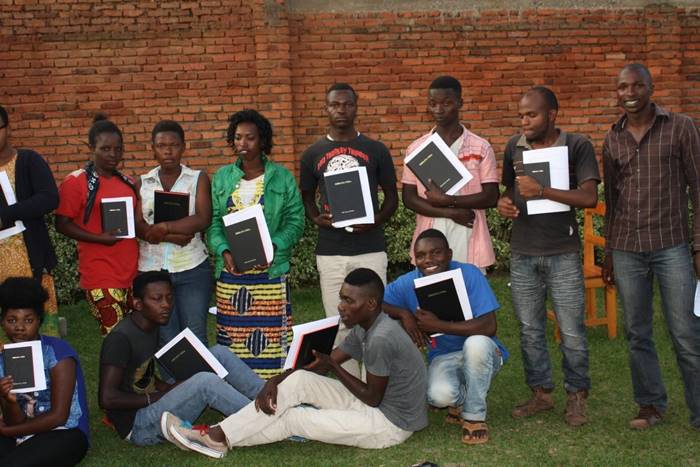 We were having anti drug group who have started to be a lamp to other young people and adults showing them the consequences of drugs abuse and how bad they are.
At the closure of the crusade many people testifies the sins they have repented for such as adultery, drug abuse, drunkenness .

Please pray for our outreach evangelism to grow Sound system we need for your prayer and support Powered Mixer
Loudspeakers
Microphones wireless system Amplifier
If you need to be part of this mission contact us at info@transformationalministries.org God bless you
---
Article crated on 2017-06-22 23:28:04